Hallmarking and Sizing
Hallmarking 
Overview
The purpose of hallmarking is to protect buyers of precious metal items against fraud. The hallmark is a mark which shows that the item has been independently tested and verified as matching its description, and conforming to all legal standards of purity or fineness of the metal.
All items (over certain weights) sold in the UK and described as being made from gold, silver, platinum or palladium must have a legally recognised hallmark. The law is set out in the Hallmarking Act 1973 (which has been amended and updated on various occasions).
Compulsory marks
A complete hallmark consists of 3 compulsory marks. If an item has not been stamped or marked with these 3 markings then it has not been properly hallmarked. All 3 marks must be present.
1.

 

A sponsor's or maker's mark
This is the registered mark of the company or person that sends the item for hallmarking. Manufacturers, wholesalers, retailers, importers and more can all be sponsors. In the UK, this mark has at least 2 letters, and all marks are unique.
2.

 

A metal and purity (fineness) mark
This mark shows the precious metal content in the item, recorded in parts per thousand. This means that the number tells you the proportion of precious metal content in the alloy. For example, the fineness mark of 9 carat gold is 375. This tells us that the alloy must have at least 375 parts gold per 1,000. The shape surrounding the number indicates the metal type, which you can see in the diagram below.
3.

 

An Assay Office mark
This mark shows which of the 4 Assay Office in the UK tested and hallmarked the item.
Full UK hallmark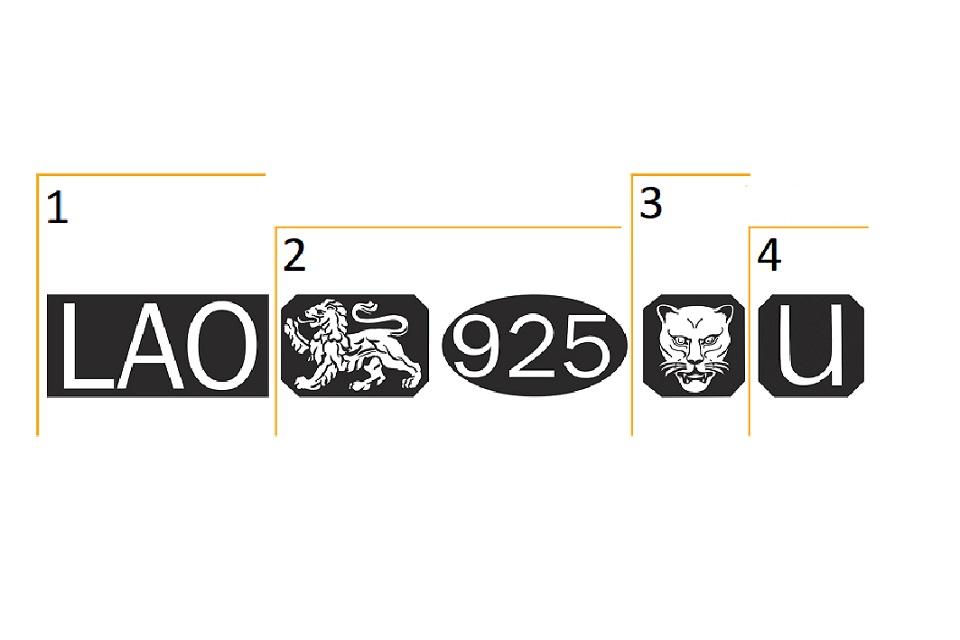 A full UK hallmark tells you:
Who submitted the article for hallmarking (sponsor's mark)
What the final metal is made of (Metal fineness mark)
Where the article was hallmarked (Assay office town mark)
When the article was hallmarked (date letter) is optional
Other marks
In addition to the 3 compulsory marks, other marks may be applied. These include the following.
Hallmarking Ria Poynton's Jewellery 
Our jewellery is hallmarked where required by law, by the Birmingham Assay Office, and carries our unique hallmark. Silver jewellery under 7.78g in weight is not required to carry a hallmark - there are some item in the collections that do not carry a hallmark  as they are under this weight.
To avoid damaging the pieces of jewellery we tend to use hallmarking tags, these are attached often to the chains or pieces using jump rings  
Jewellery Size Guide 
To help make your jewellery selection easier, we have provided size guides f
or rings, necklaces, bracelets and pendants. Please be aware that the information is intended as an approximate guide, if you require further assistance, please get in touch 
Rings
Rings are measured using several different methods. The most common you'll come across, and those that we tend to stock, are UK, European and US.
Size

Diameter

UK

European

US

Inches

mm

F ½

44

3

0.55 - 0.56

14.10 - 14.28

H

46

4

0.57 - 0.59

14.70 - 14.92

H ½ - I ½

48

4 ½ - 5

0.59 - 0.60

15.01 - 15.28

J – K

50

5 ½

0.61 - 0.63

15.61 - 15.92

L – L ½

52

6 - 6 ½

0.65 - 0.65

16.40 - 16.55

M ½ - N ½

54

7

0.67 - 0.68

16.99 - 17.19

O – P

56

7 ½ - 8

0.69 - 0.70

17.58 - 17.83

P ½ - Q ½

58

8 ½ -9

0.72 - 0.73

18.17 - 18.46

R ½ - S

60

9 - 9 ½

0.74 - 0.75

18.87 - 19.10

U ½

62

10

0.77 - 0.79

19.80 – 20.00

V

64

11

0.80 - 0.81

20.40 – 20.60
A ring should fit comfortably so that, after initially putting it on, you no longer feel it. It should not be tight or restrictive, nor should it be too loose for risk of it falling off.
When sizing a ring, it is worth considering several factors:
Thickness: A thicker ring will displace more of your finger, creating a tighter fit than a thinner band. If you are certain of the size in a thinner band, we'd suggest going half a size or possibly a size bigger
Temperature: In warmer weather our fingers swell, in the cold they contract. A ring that fits in winter might feel a little more snug on holiday in a hotter climate. When trying on a ring consider the temperature of your hands. We recommend trying a ring for size when your hands are at a moderate temperature.
Other rings: Like a thicker band, wearing additional rings on the same finger will create a tighter. We often suggest wearing a slightly bigger ring closer to your hand and a tighter one further away. This will hold both in place and retain comfort.
Finger shape: A wider knuckle might require a tighter ring which is slightly difficult to push over the knuckle, but fits nicely at the base of your finger.
The length is a key factor in determining style. Different lengths will be appropriate for different people and places of wear.
Standard lengths are listed below if you require a different size please do get in contact. 
Length

Fit

Inches

cm

10 - 14

25 - 36

Fits closely to the neck, often called a choke.

16

40

Lies loosely around the neck, can be known as a choker, chain, locket or strand.

18

45

Hangs over the collarbone, called a princess.

20

50

Sits just below the collarbone, known as a matinee.

22

55

Hangs above the bust, still a matinee.

24

60

Sits at the centre of the bust, still a matinee.

28 - 38

70 - 95

Hangs just below the bust, known as an opera, lariat or rope.

40+

100+

Extends past the navel, still known as an opera, lariat or rope.
Thickness can also determine the style of a necklace, as well as the presence and size of a pendant. These are both things to consider when choosing the perfect necklace. A thicker chain will tend to be heavier and may not be suited for a very long necklace, and a low-hanging pedant will lengthen the appearance of the necklace.
 Bracelets
We offer bracelets in various styles including chains and bangles, some are adjustable or features different fastenings. For this reason, it is difficult to provide a set size guide for bracelets, however we have provided the following chart as an approximate guide for how a bracelet should fit.
Use a tape measure to take a tight wrist measurement, then use the chart below to find the recommended bracelet size. For example, if your wrist measures 17 cm then a 19 cm bracelet will provide a comfortable fit*.
Tight Wrist Measurement

Recommend Bracelet Size

Inches

cm

Inches

cm

5.5

14

6.3

16

5.9

15

6.7

17

6.3

16

7.1

18

6.7

17

7.5

19

7.1

18

7.9

20

7.5

19

8.3

21

8.2

21

9.0

23
*Please be aware this is an approximate guide only.